Liner

Fabric Rewinding Machine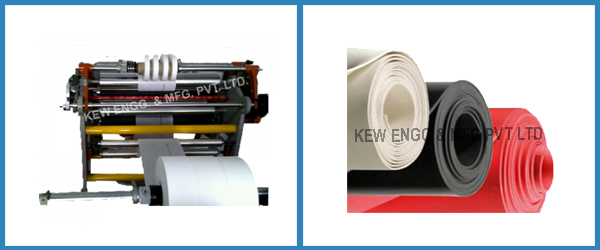 All Tyre Companies requires to make perfect winding of Liner Rolls before processing it for tire building. We are most renowned manufacturer of Liner Fabric Rewinding Machine. With more than 80 Installations all over India & overseas, we are the most respected manufacturer of Fabric Slitter Rewinder Machinefrom India.
KEW manufacturers, exports & supplies highest number of Slitting Rewinding Machine from Ahmedabad, Gujarat, India, with more than 1400 installations all over India and overseas like Saudi Arabia, UAE, Dubai, Sharjah, South Africa, Nigeria, Ghana, Congo, Kenya, Zambia, Sri Lanka, Bangladesh, Malaysia, Pakistan, Nepal, Russia, Thailand, Indonesia, Brazil, Colombia, Venezuela, Argentina, Mexico, Canada, etc. We are winner of 3 times National Award and 2 times International Award for Quality manufacturing.
Standard Features
Liner

Fabric Rewinding Machine

Slitting of all types of material like Plastic, Paper, Flexible Packaging, PVC, Aluminum Foil, Stretch Film, LDPE Film, BOPP Film, BOPP Tape, OPP, METPET, Pet Film, OPA, Non-Woven Fabric, Paper Board, Adhesive Tape, Film Ribbon, Textile Cloth, Nylon Fabric, Micro Tape, Coated Paper, Ice Cream Cup Paper, Fax Roll, Laminated Film, Cling Film, Duct Tape, Mask Tape, Rubber, Tarpaulin, Tube, etc. makes us most experienced manufacturer, exporter & supplier of Slitter Rewinder Machine.
FEATURES OF LINER FABRIC REWINDING MACHINE:
Completely fabricated from Heavy Duty Chanel Angle structure of Rewinder Stand and Let-Off Stand
Complete with pneumatic break and Safety Chucks (Locking Assembly) on Let-Off Station
Inspection Table covered with S.S. Sheet structure-Guider Roller and Light System for Inspection Fabrics
Platform, Hydraulic Web Aligner (Power Pack) Unit complete with Hydraulic Cylinder, Air Sensor, Adjuster, Square Pipe, Air & Oil Pipe
Banana Roller to remove the wrinkle
Rewinder Unit completely manufactured from Heavy Duty Channel Angle and Angle with Pneumatic Cylinder for lifting the Drum Roller
Necessary Guide Rollers
10 HP AC Electric Motor with Synchronized reduction Gear Box
Electrical Control Panel Drive with Chain Wheel
Pressure Rubber Roller
Pneumatic Panel Board for Control of Pneumatic System
Necessary Safety Covers
OPTIONAL ATTACHMENTS FOR WOVEN FABRIC SLITTING REWINDING MACHINE:
Auto Tension Control System for Unwind Unit
Digital Line Edge Guide System
Web Edge Guide System (Hydraulic / Digital Ultrasonic)
Pneumatic system for Arm / Clutch / Brake / Nip
Air shaft for Unwind Station & Rewind Station
Safety chucks at Unwinder Station
Bow rollers or Banana Roller for Wrinkle Free Working
Our machine is an ultimate Slitter and Rewinder Machine for its accurate slitting and rewinding qualities. It ensures perfect slitting of rolls with consistent, flawless results and constant line speed. It is available in adaptable model to suit your requirement. Our Slitting Rewinding Machine is available in Rewinder, Duplex surface slitter and Rewinder and Cantilever differential slitter and Rewinder. Our Liner Fabric Rewinding Machine is renowned for its accurate slitting at a higher speed and vibration less working.
KEW Slitting Rewinding Machine ensures perfect slitting of rolls with consistent flawless quality and constant line speed. It is available in adaptable model to suit your requirement.
Technical Specification
Technical Specification of Liner Fabric Rewinding Machine:
| | | |
| --- | --- | --- |
| Web width | : | 400 to 5000 mm |
| Maximum Diameter Of Stock Roll | : | 600 – 1000 mm (1200 mm – 1400 mm Optional for Heavy Duty Model) |
| Maximum Diameter Of Finished Roll | : | 400 to 600 / 1000 mm / 1200 mm – 1400 mm (Optional for Heavy Duty) |
| Operating Speed | : | 150 Mtrs./Min |
Video
Quick Inquiry